The past few weeks, I've been doing a lot of hosting, toasting and traveling. Perhaps H&T needs a name change? (kidding!) After I returned home from my Homestead trip, I spent the next week prepping for fall work events and a fall-inspired brunch.
I co-hosted the brunch with my good friend Cori Sue at my house in Georgetown. After much discussion and re-scheduling the past few months, we finally found a Sunday that worked for the both of us and got to work on the details.
First & foremost, the menu. I worked with my friends at DC Taste to come up with a custom menu for the eight of us. We made sure to include the #basic elements of fall from pumpkin to apples and just about everything in between. It was nothing short of delicious and some of the items were even made gluten free for yours truly.
The Menu:
Scrambled Eggs with Spinach, Manchego & Brie
Mini Pumpkin Pancakes with Nutella filling & Maple Syrup
Apricot + Sage Glazed Sausage Links
Fresh Chopped Fruit Salad
Mini Fried Chicken + Sweet Potato Waffles
Maple-Glazed Bacon
Caramel Cinnamon Apple + Gingersnap Granola Yogurt Parfaits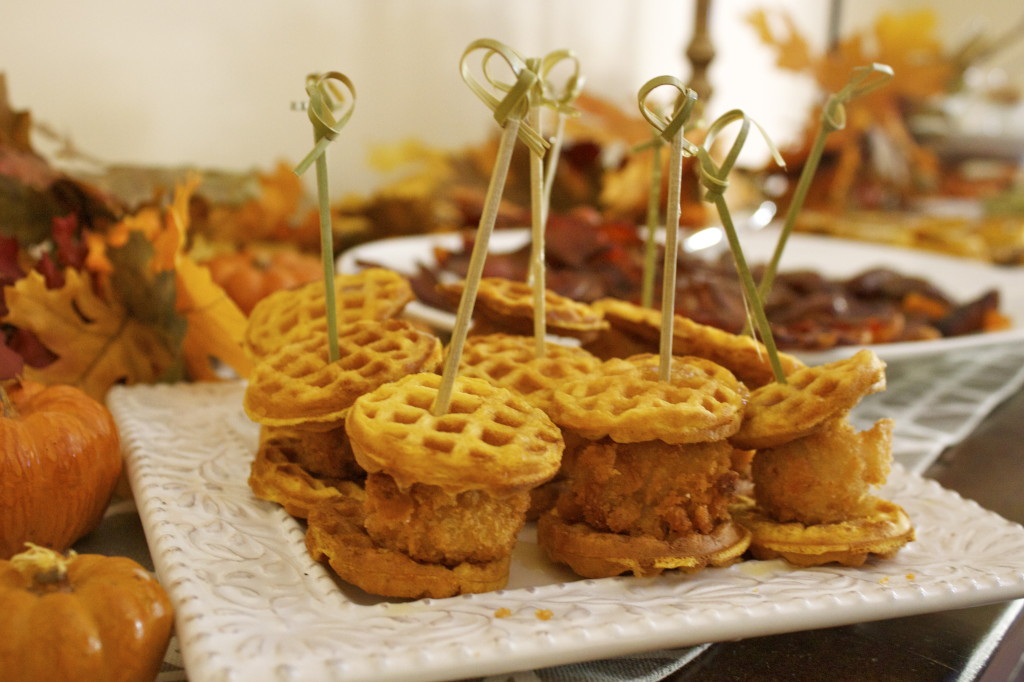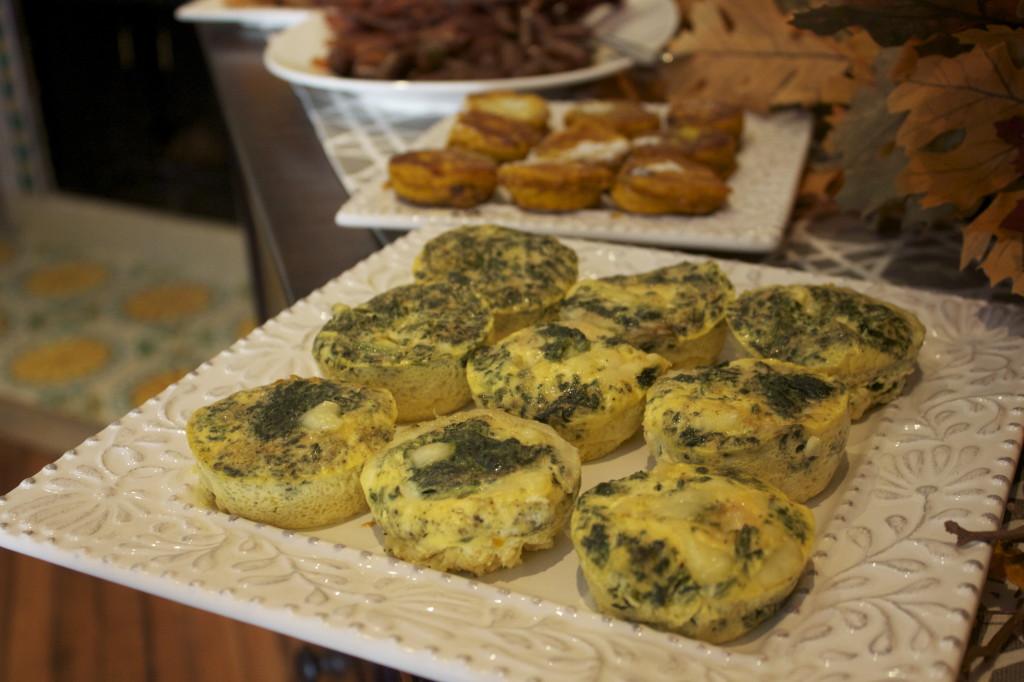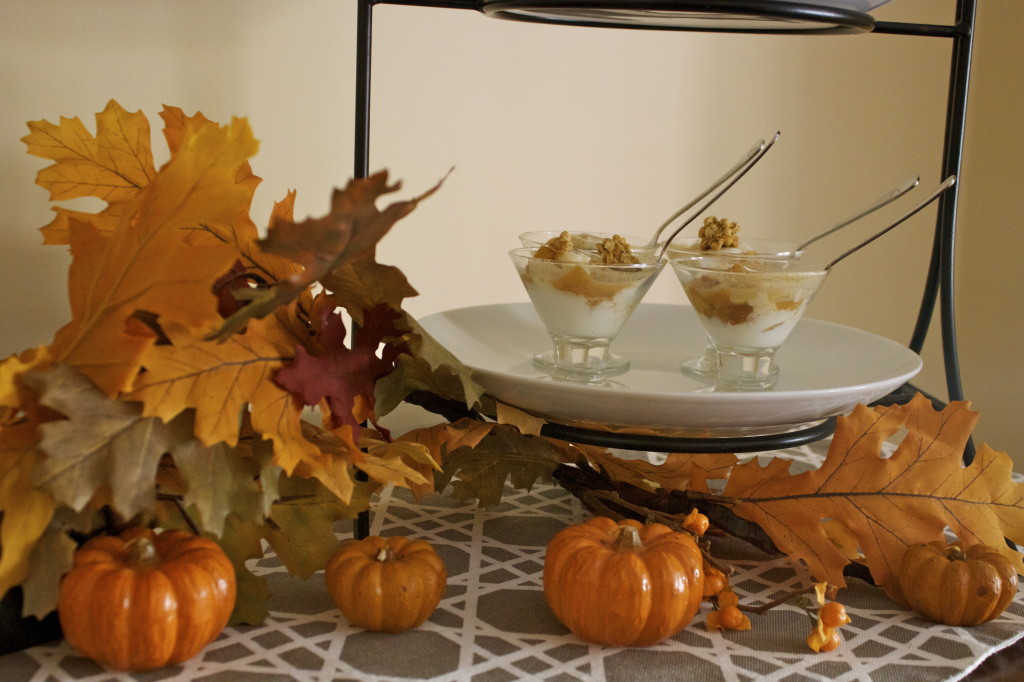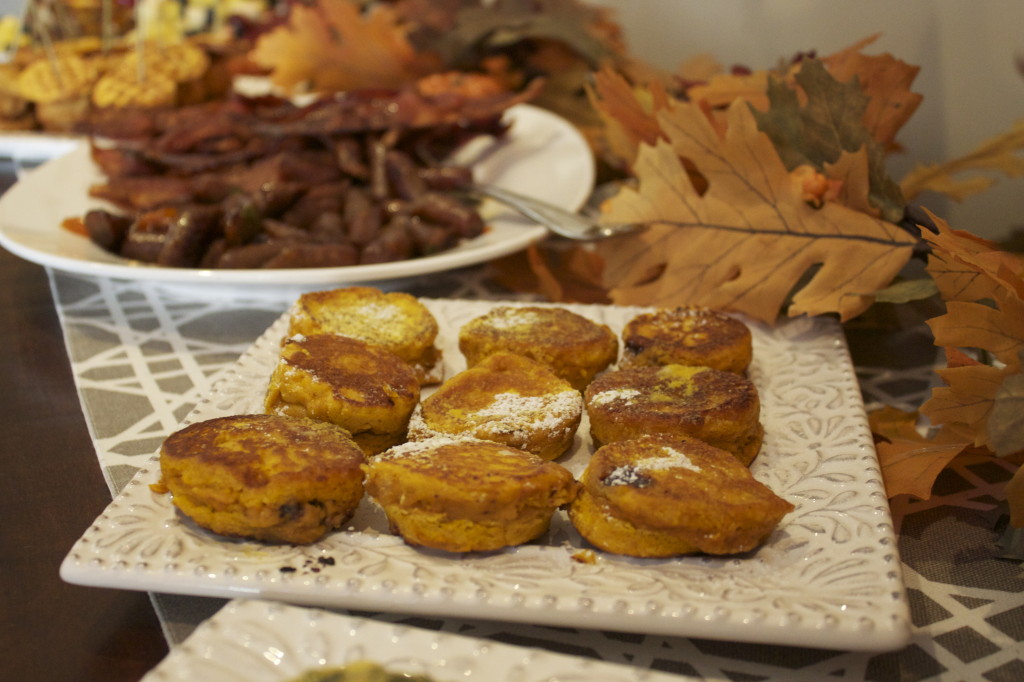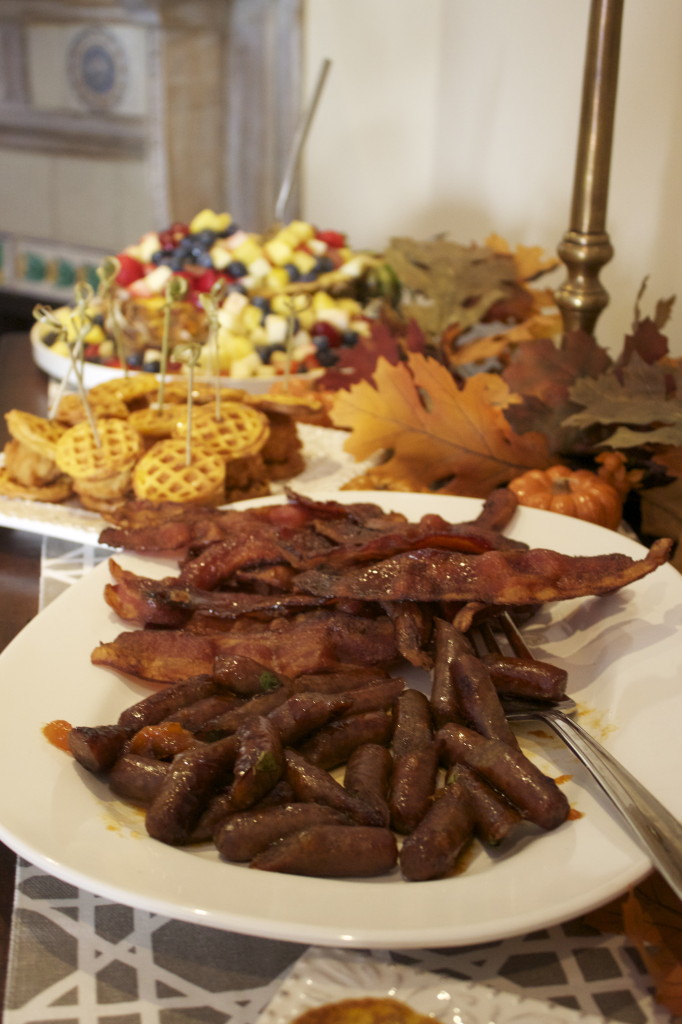 Our friend Brie of Monumental Sweets also brought over some fall leave sugar cookies for everyone to indulge in (not that we didn't have enough carbs to keep us full already). For beverages, we sipped on homemade apple cider (also from DC Taste), mimosas with Zardetto prosecco, hard sparkling apple cider from Eve's Cider and freshly brewed coffee from Compass Coffee. There was also plenty of OJ and pellegrino to go around. I sometimes assume that just because I enjoy a lot of drink options that everyone else does too!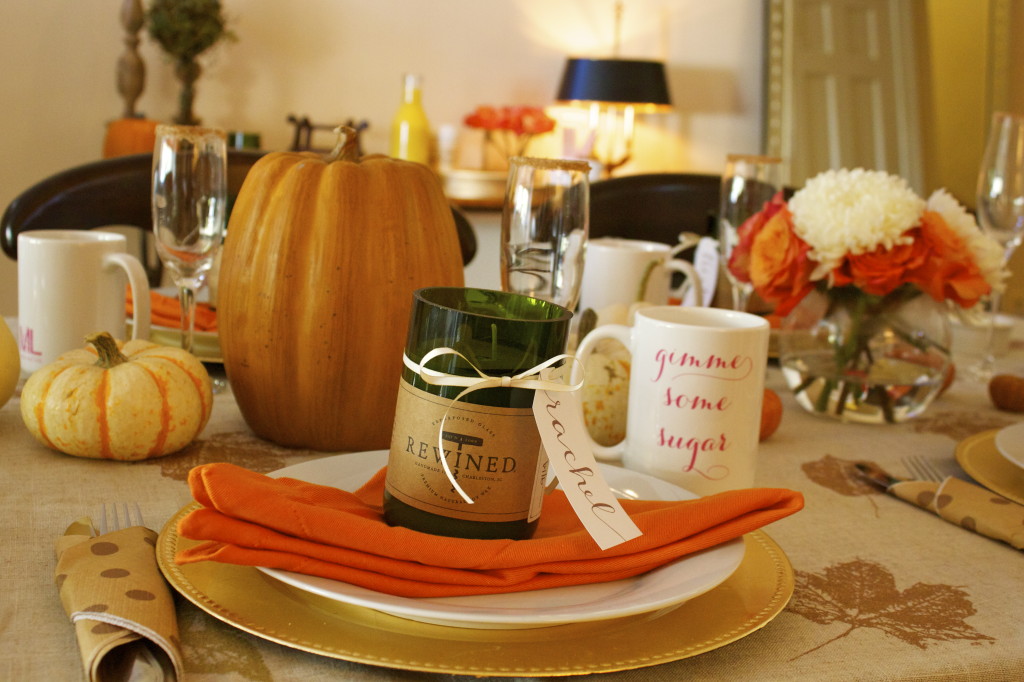 I set the table with pumpkins (fresh and Pottery Barn bought), a golf leaf tablecloth, gold chargers, a white ceramic coffee pot and a white ceramic pumpkin full of coffee fixings.
We arranged fresh orange roses from Urbanstems and spider mums that I picked up at the store in vases around the house. Each place setting had a different Moon & Lola mug from their new mug shop and of course, a champagne glass to accompany them (rimmed with cinnamon sugar for the hard sparkling cider).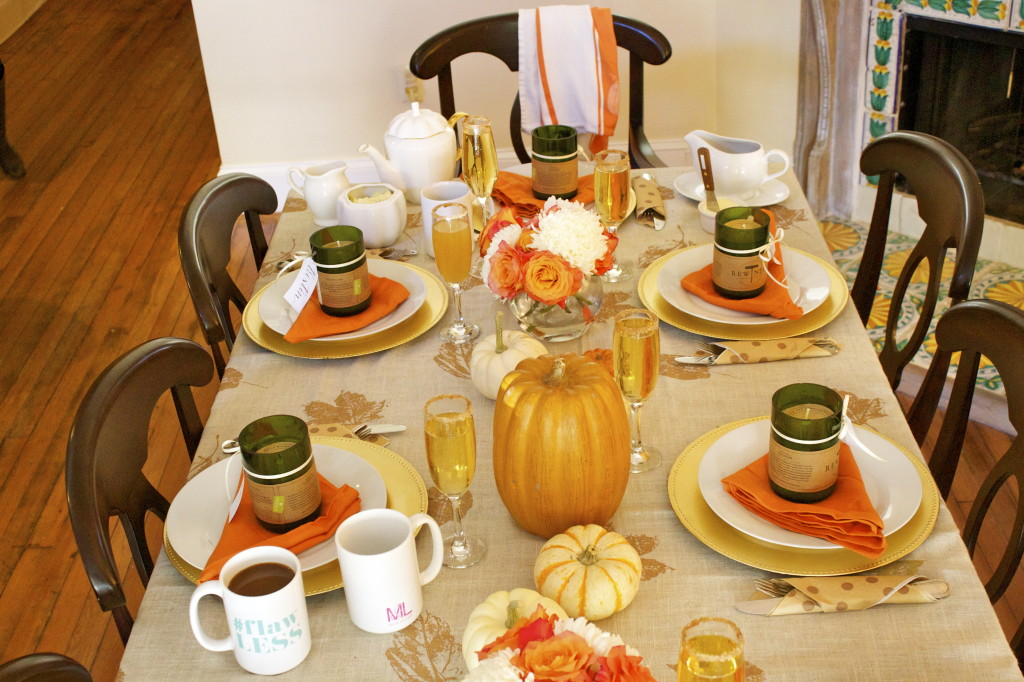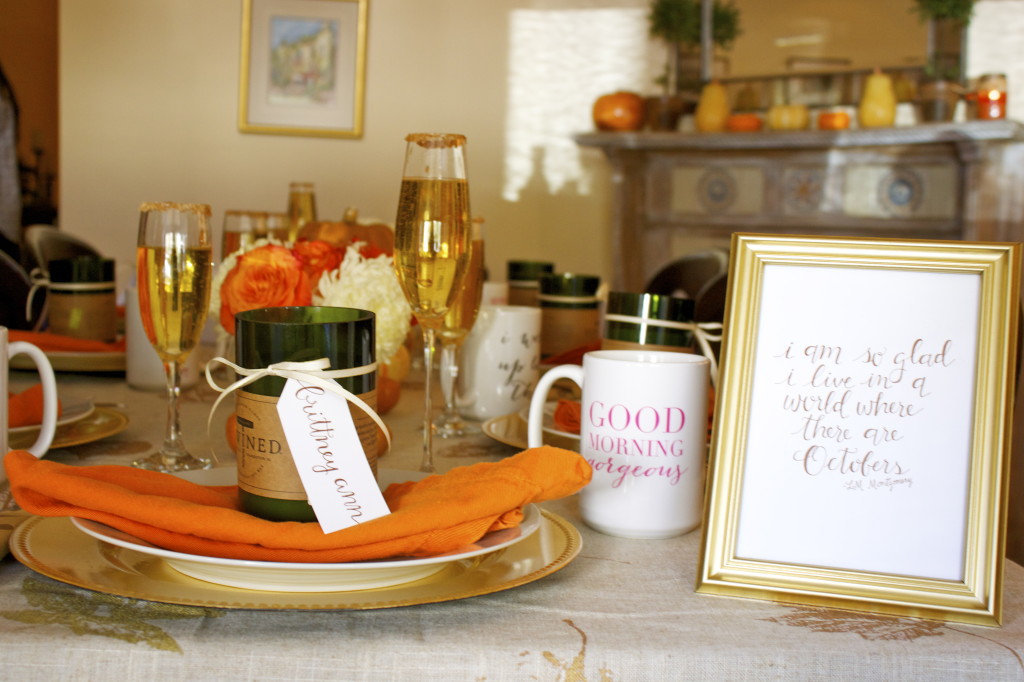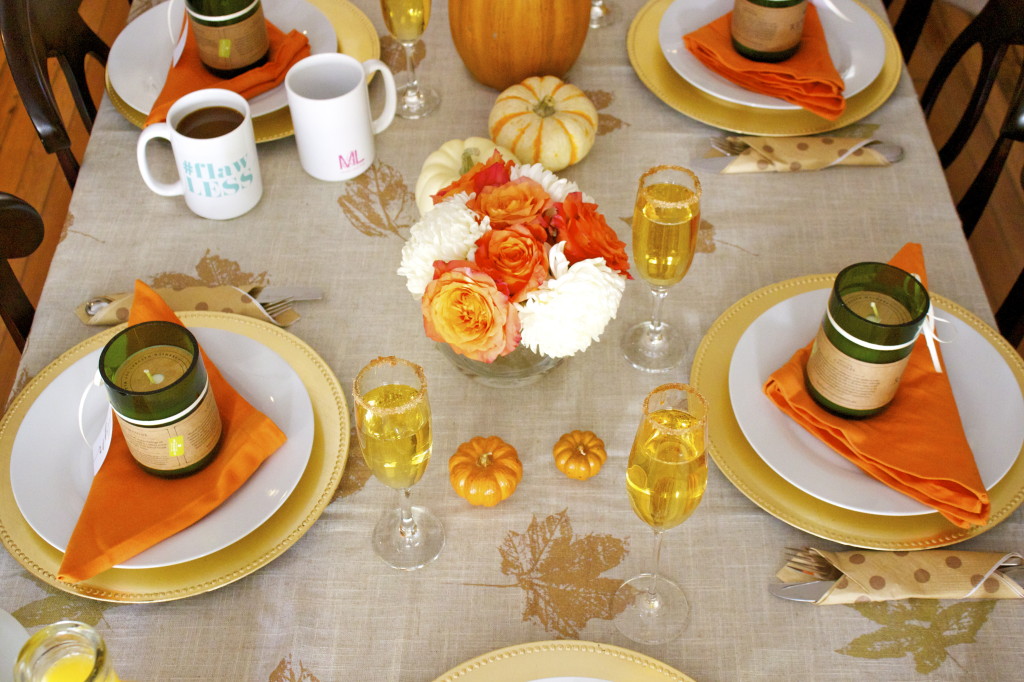 Every place setting also had a custom Rewined champagne candle with either Cori Sue or I's initials and the date on it (these would also be great customized bridesmaid gifts or wedding favors). I tied name cards to the candles as a favor for each guest to take home. Guests were also given a custom October print and thank you note from the hostesses. Dani from Drafts & Crafts worked on all the prints for us – aren't they beautiful?
Special thank you again to all our partners on this brunch and our lovely friends for joining us.
Hopefully this will inspire a fall menu or party of your own!
I'm off to Boston today and hope to meet some of you with Carly tomorrow at our event.
Article from: http://hostingandtoasting.com/fall-inspired-brunch-party/